"The Holocaust Theater Catalog is a component of the National Jewish Theater Foundation/Holocaust Theater International Initiative. Its goal is to fill an existing void in Holocaust awareness by providing a critically needed entryway to the intersection of theater arts, education and Holocaust scholarship."
The Holocaust Theater Catalog was a project two years in the making. Created by the National Jewish Theater Foundation and developed by an impressive team of scholars, artists and volunteers overseen by Arnold Mittelman, founding NJTF President, and by Dr. Alvin Goldfarb, Supervising Advisory Board Member. The website was gifted to the University of Miami, Sue and Leonard Miller Center for Contemporary Judaic Studies.
This was an endeavor that I loved being a part of and was fortunate to have had a hand in the planning, developing and designing of the website. We created the site using WordPress with a custom theme, making creative use of categories, custom taxonomies, advanced custom fields and more. We intentionally kept the design and administrative interface as simple and straightforward as possible and were very happy with the results. While logically, it may seem strange to say that it was a great pleasure to work on a project whose topic was as grave as the Holocaust, but it truly was because it was meaningful. And those are my favorite kind of projects.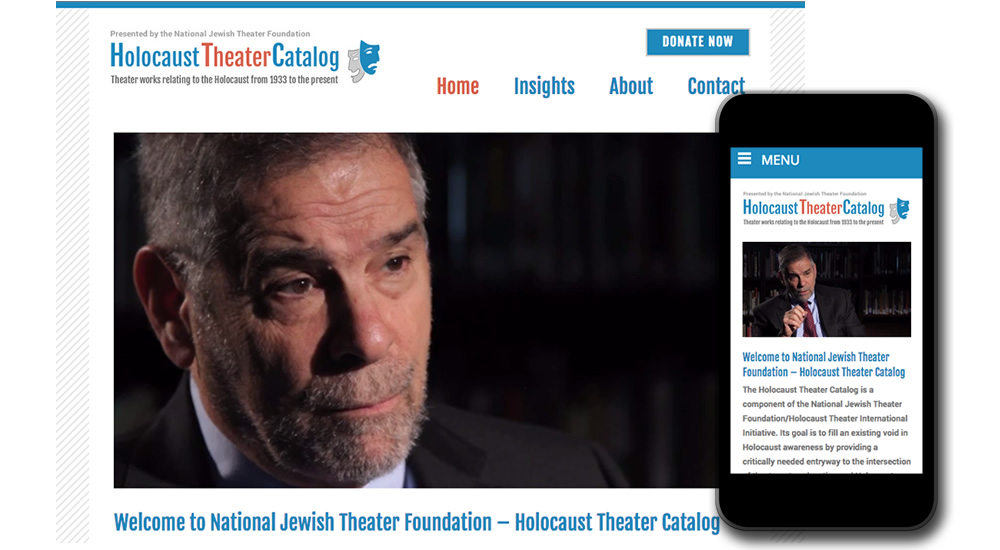 The Holocaust is becoming a shadow in the public consciousness, but to me it is an archetype of an institutionalized modern day evil.  The world watched while what was to be the Holocaust gestated and stayed silent. The media chronicled Hitler's rise to power, capturing his charisma and messaging and sent it out to the masses. And the masses were complacent and even supportive of his agenda, even though he clearly held an extremist ideology combined with ethnic animosity, and a diabolical disregard for life. A potent combination that led to murder on a massive scale.
Don't think the Holocaust could happen again? Look at the ethnic animosity of the Khmer Rouge where 1.7 million Cambodians were murdered by their own government.  Look at Rwanda. Look at the fervor of members of the burgeoning ISIL. We all have witnessed the vitriol of a few politicians who throw tantrums, twist religious doctrine, purport views deftly crafted for their own political or financial gain.  Too often it seems  "We the People" stay silent, even believing unfounded whispers and willingly go along with the demagoguery of corrupt leaders, governments and ideologues. Sadly, history repeatedly tells us that mankind is capable of great brutality and bad things can happen when the unconscious masses wake up and take action too late.
The stories from the Holocaust are unquestionably relevant in today's world, even as the survivors who carry those first-hand memories have little time left with us on this planet. And because theatre is both a communal and personal experience, I can think of no better vehicle to deliver those stories that would have greater impact on audience members.
And these stories are important.
And powerful.
And need to be shared with our next generation.

Click here to learn more by visiting the Holocaust Theater Catalog >>
While you are visiting the Holocaust Theatre Catalog make sure to watch Micheal Berenbaum's eloquent video right on the home page.